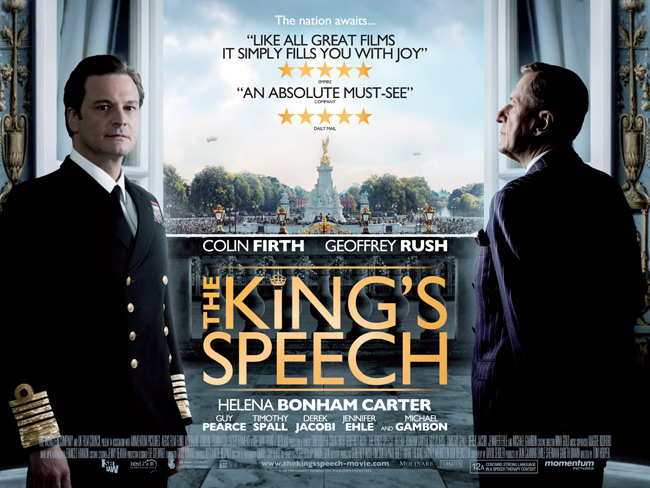 Months ago in early Fall, our friends Karin and Paul invited us to a special screening of a movie, we couldn't remember the name of the movie but we knew it had Collin Firth (who's name I always get confused with Collin Farrel) so we decided to go, mainly because we wanted to see and hang out with our friends, and also because it was free. Karin is a member of the Producers Guild of America. She gets a to invite a few guests per showing. My expectations were pretty low, remember at the time I wasn't exactly sure which Collin I was going to be seeing, and if it was Farrel it probably wasn't going to be the best movie ever. But as the screen lit up with images of England, I was glad it was Firth but also a little skeptical....another English royalty movie really???
But within the first scene of the movie, I knew this was a British royalty movie of a different sort. Who hasn't met someone with a stuttering problem, or even have had a touch of this speech impediment themselves. It's horrifying to watch and even more so to go through, couple that with being public speaking royalty and it makes for good cinema. Even better that it's all based on a true story, a story that many still remember. I remember really liking this movie, at the end there was even a Q and A with Collin, Helena, the Director and a Producer. I was sorry that the screen writer and that Geoffrey Rush were absent. Because to me the screen writing and Geoffrey Rush made the film.
It was a great film, and over the next few months I got to view many other of the soon to be Oscar contenders from The Fighter, to True Grit, to Black Swan. And although I believe Black Swan should have had more recognition in many areas, for make up and costume at the least. I do think that The King's Speech was the best picture this year. But that's just my two cents.